Campus Services Vice President Scott Wright Discusses His History of Giving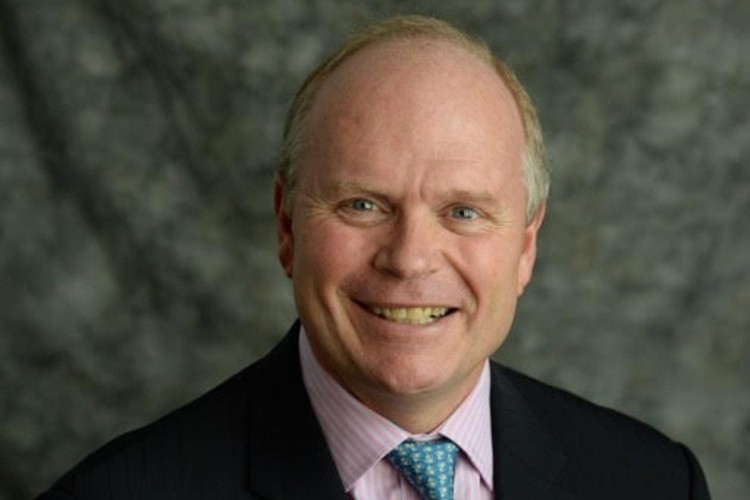 When Scott Wright was 22 his dad told him to start a retirement plan, contributing just 1% of his annual salary and seeing how that went. Wright, vice president for Campus Services, took that advice a step further. He applied it to his charitable giving, which he has grown over the years to become one of the major donors to Columbia Community Service (CCS), a University initiative that he encourages everyone to support, "Just put something in, a small amount per month, and see what happens. Then give more when you can."
CCS, a collaboration between Columbia, Barnard, and Teachers College, is one of the University's oldest commitments to our surrounding communities. The program just launched its 74th Annual Appeal with a fundraising goal of $250,000 by December 31. Donations will support food relief, health, and educational programs at nonprofits in Harlem and Morningside Heights.
Wright, who has been on the CCS board for 14 years, is now in his second year as board president. His role in Campus Services makes him a strong advocate for every aspect of student life outside of the classroom—areas such as dining, housing, health, events, and transportation, which often intersect with our local community's interests. All of this makes him ideally positioned to understand the outsize demands that life sometimes puts on our neighbors.
Columbia Community Service
This winter, he says, we are facing a breaking point. "We have a crisis here and now with the ongoing pandemic. We have a crisis with having enough food, unemployment, children disengaged from school. There is a great deal of need so anything we can do to help the neighborhood get through this winter and for several years forward, is going to be greatly appreciated."
Wright recently talked to Columbia Neighbors about his history with Columbia Community Service and the program's vital necessity this year.
What initially drew your interest to Columbia Community Service?
I am in my 21st year of employment at Columbia. My donor history was spotty at first; until I was approached by my colleague, Mark Kerman, the former board president, and Joan Griffith-Lee [CCS director]. Joan asked me to become more than a donor. I agreed because of the impressive work being done, including outreach to the neighborhood. Working with a new set of colleagues on the board gave me exposure to this whole new side of Columbia.
In those early years, were there grantees that stood out to you?
My first site visit was to the Beacon program of Graham-Windham [at the NYCHA Manhattanville Houses]. I was blown away by the kids, by the dedication of the volunteers, the individuals, the program. They were all in. Both the staff and youth stand out among the people I have met during my time at Columbia.
When my children were younger, I had the pleasure of learning about Top Honors (now Common Denominator). My wife was a computer engineering major in college, so we could help our kids with math. But of all the things you learn in school, along with reading, math is something we need in our lives at every moment of every day, almost. I began thinking about what it must do to your self-esteem at a formative age without this enrichment. The recipient families were largely led by single working parents. The kids in the program were giving up Tuesday nights and Saturday mornings for math tutoring and the attendance rate was 90 percent. How do you not help this organization?
We have close friends with an autistic child, so I also focused on learning more about SNACK*—thinking about what happens when autistic children become autistic adults. As my own children became adults and went on to do things independently, I thought about others being limited in choices and options. What I have loved doing with CCS and why I really get so much out of being able to participate, beyond just giving money, is because I feel everything has been about right now. What stole my heart were those living with hard circumstances today. CCS is important to daily living in our neighborhood and that feels great. It is another aspect of a dynamic job here at Columbia.
What projects were the most successful for your team this year?
We just held our all staff meeting in early November, the first time since January 2020. I featured two highlights for our team, when Housing housed NewYork-Presbyterian front line staff and when Columbia Dining was able to participate in the Food Relief Fund program, providing 85,000 meals. Those were the two things that said, "this is what we do" and there was an outpouring of appreciation from the staff that were unaware we were providing 1,000 meals per day. We were able to provide a lot of meals to many people by tying together the generosity of trustees, dining staff, CCS, and wonderful community organizations.
Is having this kind of impact easier because we're at Columbia?
Working at a place like Columbia, if you want to do something you can, no one is holding you back. Somebody at this place, on every day, is doing something to help someone. As an employee, I do not want to hear that the University is not doing something or that there is nothing that can be done. CCS can help you learn that there are many ways to help, so everybody can get involved.
Why it is important to make a donation to the CCS 74th Annual Appeal?
These fantastic organizations need money to operate programs. If all of us give something, there are tens of thousands [University employees], and we can get those significant dollars to these programs. I think just doing that, just starting there, you will feel good. You will feel good about working at Columbia. You will feel good about what Columbia is saying to the neighborhood. I would hope, somewhere in the future, you will want to do a bit more, whether it is financially or via other opportunities. My view is that I am doing the things I ought to be doing because I work in this neighborhood and have benefited from that every single day of my life for the past 21 plus years, so I want to give back.