Volunteer
Looking to lend a helping hand? Here are the latest opportunities available at CCS-supported nonprofits: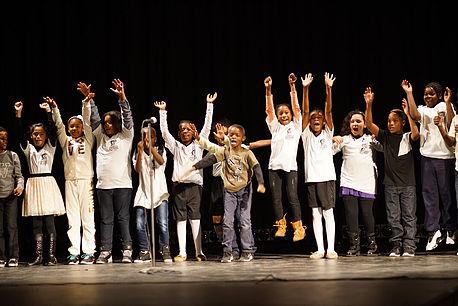 America SCORES empowers students in urban communities through the practices of soccer, writing, creative expression, and service learning.
They have volunteer opportunities for individuals, families, corporate groups, civic groups, students seeking community service hours and others. 
Events:
They always need help with planning, fundraising for and implementing their youth and corporate events. 
Corporate soccer tournaments
Youth soccer events
Poetry slams
Roles include: event setup & breakdown, registration, field marshalls, food handout and ushers, among others.
Soccer Referees & Coaches:
America SCORES NY needs volunteer referees for elementary school league games on Fridays from 2:45-4:30PM.  No prior experience or certification needed, just a basic knowledge of soccer. They also seek committed assistant coaches to help at schools across the city on weekdays from 2:30-4:30PM.
Professional Services:
As a small but growing non-profit, they are in need of professional services and other office work, including but not limited to:
Technology
Finance
Business Development / Strategy
Legal
Marketing /PR
Writing /Journalism 
Graphic design
Event photography, filming and video editing
Event promotion
Sponsor recruitment
To learn more, please contact them at 646-660-0404.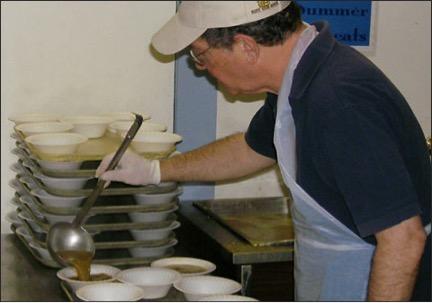 Broadway Community Inc. offers two dozen programs, including a doctor's office, pantries, clothing, referrals, advocacy, and other emergency services for those in need. They seek volunteers to help in their provision of the following services. 
Lunch service:
They seek volunteers on Sunday or Tuesday from 6-8 pm to help Chef Michael, their chef, prepare meals for Monday or Wednesday lunches.
Every Monday, Wednesday, and Friday from 10 am-3 pm, they need volunteers to serve their guests. Volunteers may stay for all or part of that time to prep salads, serve guests at their seats, and help clean up.
Community Table:
On the second Thursday of each month, Broadway Community Inc. serves a meal that is open to all. They need volunteers for all kinds of tasks from 12-10 pm.
Overnight and dinner volunteers with their Night Shelter:
They need volunteers from 8-10 pm to help serve and clean up from dinner for their 12 Night Shelter guests.
They need volunteers each evening to stay overnight with their guests.
To get involved, contact Volunteer Coordinator, Timothy Wotring, at volunteer@broadwaycommunity.org
Cathedral Community Cares provides an array of support services to those in need. These include a Nutrition, Health, and Clothing Center that provides professional and emergence clothing through the Clothing Closet program and a Sunday Soup Kitchen that provides a breakfast, lunch and take-away meal every week.
The Clothing Closet distributes emergency clothing to homeless and low-income individuals that visit the Cathedral Community Cares' Nutrition, Health, and Clothing Center. The closet is outdoors and is open on Tuesday and Thursday mornings. Volunteers are needed to operate the Clothing Closet and help to distribute clothing on Tuesday and Thursday mornings as well as to assist in organizing incoming donations on Wednesdays. Volunteers can choose to do either or both.
Distributing: Tuesday and Thursday 10 am – 1 pm
Organizing: Wednesday anytime between 11am to 3 pm
In addition, each Sunday at the outreach/information table, CCC volunteers provide information and referrals to clients of the Sunday Soup Kitchen. Long term volunteers are needed to assist in providing these beyond-emergency services each Sunday from 10 am to 1pm. Volunteers will also assist in keeping the outreach materials and information update to date. Training is available.
For additional information, please call the Visitor Center at (212) 316-7540.
The Family Annex, a Columbia University affiliated preschool, is currently seeking either volunteers in the area of child care, or occasional substitutes who will be hired on an as needed basis to work with teachers in the classrooms. The children are between 1.9 years of age and 4. They are an 11 month program that is open to Columbia and neighborhood families. They are immersed in the Reggio Emilia philosophy for learning. 
For further information, please contact Nancy Drescher at info@familyannex.org.
Harlem Academy, an independent school founded in 2004 to create an opportunity for bright, motivated children to have educational experiences that match the standards of the city's best preparatory schools, seeks Mentors and SSAT Instructors.
Mentors assist lower school students with a focus on remedial or accelerated math and/or reading. This position requires a committment of once a week (Monday - Thursday) from 7:30am-­8:15am or 5:00pm-­5:45pm.
For further information or to signup, please contact Colleen Knill at cknill@harlemacademy.org 
The Harlem Educational Activities Fund, Inc. (HEAF) is a comprehensive supplemental education and youth development organization that works to help motivated students from economically disadvantaged communities to develop the intellectual curiosity, academic ability, social values and personal resiliency they need to ensure success in school, career and life.
They are looking for an energetic, entrepreneurial and intellectually curious person to join their team. The Public Relations Intern will work to help build and implement a strong PR strategy to increase HEAF name recognition, garner a reputation, and be at the forefront of college access organizations in Harlem and Brooklyn.  
Responsibilities:
Conceptualize and draft copy and content for all press releases that fits within the organization's overall marketing strategy;
Retain, grow and develop relationships with reporters who cover education, youth and higher education topics.
Use monitoring tools to measure the impact and reach of press releases;
Find and cultivate new reporters in youth, education and higher education to spread the word about HEAF
Stay on the cutting edge of what's new in public relations and how HEAF can utilize these new approaches.
Attend events and programs to help develop stories for press releases and for the media;
Qualifications:
College/ graduate student or recent graduate;
Must be available to work 3 days a week, totaling 15 hours, for at least three months, extension could be possible based on schedule
Demonstrated proficiency in public relations;
Superior writing, editing and proofreading skills and interpersonal skills;
Ability to think, plan and execute on multiple projects simultaneously in an organized fashion and as an effective member of a team;
Demonstrated ability to work calmly and maintain good judgment in fast-paced environment;
A detail-oriented self-starter and finisher with great time management skills;
Proficiency with Adobe Creative Suite (InDesign, Photoshop, Illustrator) preferred;
Dedication to the mission of HEAF
How to Apply:
Please submit a resume and thoughtful cover letter along with one writing sample of no more than 500 words to Stefin Woolever, swoolever@heaf.org, subject line: Application for Social Media Intern. Submissions without cover letters or writing samples will not be considered. No phone calls or office visits please.
Harlem Lacrosse and Leadership is a rapidly expanding school-based nonprofit organization that provides academic intervention, leadership training, and lacrosse to at-risk youth. They have numerous volunteer opportunities available. 
Volunteers: 
Volunteer Coach - Coaches mentor and motivate students during practices, games, and events. They range from those interested in participating in one event per year to those that are able to give their time throughout the academic and summer seasons. Volunteer coaches can also be high school lacrosse players with an interest in teaching middle school students on a one-off and/or regular basis.
Volunteer Tutor - HLL tutors provide academic support and guidance to student-athletes after school, on weekends, and/or in the summer. Tutoring can occur at host schools or can be arranged in the form of special events in HLL partner communities. There is no age requirement. Volunteer tutors range from retired young professionals to high school and college students looking for leadership opportunities
Volunteer Recruiting Advisor - Recruiting Advisors help connect middle school and high school students with opportunities to attend independent schools and colleges. In most cases, recruiting advisors help HLL network with schools that they and/or their children have attended to facilitate opportunities for HLL students to visit school campuses and explore new educational opportunities.  
Please apply at: www.harlemlacrosse.org/volunteer-opportunities
Lifeforce in Later Years, a nonprofit organization serving the emotional and social needs of seniors in Morningside Heights and West Harlem, is looking for volunteers who would enjoy talking to people who fought in the civil rights movement, lived through the Great Depression and World War II, or were active in the women's movement.  Their volunteers do friendly visits, escort seniors to doctor visits, help with shopping and, very importantly, connect them to technology. Volunteers may also run activity groups, such as a exercise class, card game or book club. They try to match volunteers with a specific senior and ask for a weekly one hour time commitment to make regular visits. If volunteers have a particular skill or talent, they are happy to have them incorporate that into their volunteering. They do an initial orientation that is followed by three supervised "mentored" visits to seniors. They are flexible, and willing to work around the schedules of our volunteers.
For further information, please contact Paula Seefeldt at paula.seefeldt@gmail.com or Irene Zola at IreneZola@l-i-l-y.org
The Relief Boutique, a nonprofit organization dedicated to equipping underserved women for their return to the workforce, is currently seeking volunteers to assist clients in selecting professional clothing. Come take part in this fun and rewarding activity! Volunteer stylists will work directly with clients to find business suits, dresses, jackets, and other items that are appropriate for interviews, select clothing and help clients try on and choose outfits; assist clients in completing intake paperwork; manage clothing inventory and organization; and manage data as needed.  This opportunity requires four hours per week on either Tuesdays or Thursdays (11:00am to 3:00pm).  A minimum three-month commitment is requested.
For further information, please contact Robyn Young at robyneyoung@yahoo.com
Founded in 1990, the Riverside Park Volunteers at Tiemman Place maintain, restore, and beautify the area of the park between 125th Street (St. Claire Place) and International House on East Riverside Drive (approximately 4 acres), which is not cared for by the parks department. They seek volunteers to help them develop their horticultural projects. 
For further information, please contact Yoshiko Scholz at yyscholz@gmail.com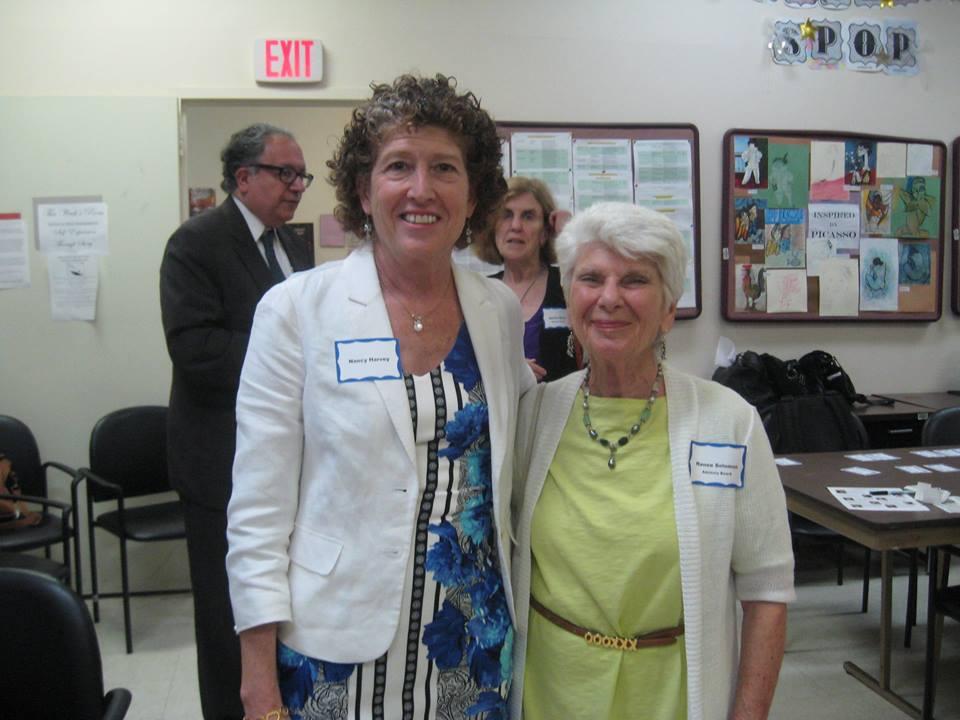 Service Program for Older People (SPOP) is dedicated to enhancing the quality of life of adults age 55 and older and to fostering their independent living through the delivery of comprehensive mental health and supportive services, advocacy, and education.
SPOP has requested volunteers for a one-day task. Their program space for our PROS/Personalized Recovery Oriented Services program needs a fresh coat of paint.  
SPOP also has opportunities for volunteers to help in their offices and with the Bereavement Support program.  
To learn how you can volunteer with SPOP, please call 212-787-7120 x521.
St. Mary's delivers meals by car or on foot, and informs people about other free services offered through the church, such as the medical and dental clinic and the free Friday night movie. 
They are seeking volunteers on the first Sunday of every month at 2:00 p.m. in Marcus Garvey Park to distribute food. 
They are also seeking volunteers to distribute snacks and help with AV equipment at their Free Movies Every Friday Night at St. Mary's Church at 6:00 pm. 
To reach the Rector for further information, please call 929-266-6279 or email: mlf.stmarysharlem@gmail.com
Top Honors (TH) is a free math tutoring program serving under-resourced NYC middle school students (6th, 7th, and 8th graders) who struggle with math.
Their tutors are NYC professionals looking for a meaningful, long-term, weekend volunteer experience. Volunteers are compassionate, engaging, communicative, patient, and comfortable with basic middle school math concepts. They should be comfortable working fairly autonomously within the structure of TH's program. Prior experience working with this age group (11-14 years) or in an instructional capacity is not required. Training is provided. 
Time Commitment: 2 hours every Saturday. You would tutor in either the 10 am or 1 pm session. Their program runs from October 2016 - May 2017. 
Apply Now: Submit an application at www.tophonors.org/volunteer and then register for the next training session (instructions provided on confirmation page).
West Side Campaign Against Hunger changes our perception of hungry people by working in partnership with them, providing food with dignity, and empowering customers of their super market-style food pantry to find solutions.

They seek volunteers to help bring in food deliveries, stock shelves, bag bread, break down boxes, assist customers, work checkout and much more.
Their volunteer hours are:

*       Monday 7am-7pm
*       Tuesday 7am-noon
*       Wed, Thurs, Fri 7am-5pm

Please schedule your first volunteer day by e-mailing Shaira Chaer, Operations Director, at schaer@wscah.org or by calling 212-362-3662 x123.
 
The Wendy Hilliard Gymnastics Foundation provides opportunities for young people to learn and perform and compete in the sport of gymnastics and its associated disciplines, as well as to enhance their athletic, social and personal potential through quality instruction and workshops in reading and health and nutrition. 
They seek volunteer support for their Harlem Invitational at the Harlem Armory, 40 West 143 Street
Volunteer Overview
Friday, Feb. 17 : (Set up Staff & Volunteers to arrive at  8:30) - 12-15 Strong Bodies for Gym Load In and Set Up

Shift 8:30AM-1:30PM
Shift 1:00PM-6:00PM 
Friday, Feb. 17: (Staff & Volunteers arrive at 8am, doors open at 8:30) – 15 Volunteers per shift
Shift 8:30AM-12:00PM
Shift 2: 11:30PM-4:30PM
Shift 3: 4:00 PM-9:00PM INCLUDES CLEAN UP AND SET UP           
Saturday, Feb. 18:  (Staff & Volunteers Arrival at 7am, doors at 8:00) – 25 Volunteers per shift

Shift 1: 7AM-12:00PM
Shift 2: 11:30PM-4:30PM
Shift 3: 4:00 PM-9:00PM INCLUDES CLEAN UP AND SET UP
Sunday, Feb. 19: (Staff & Volunteers Arrival at 7am Doors at 8:00) – 25 Volunteers per shift

Shift 1: 7AM-12:00PM
Shift 2: 11:30PM-4:30PM
Shift 3: 4:00 PM-9:00PM INCLUDES  (Breakdown Equipment and prepare for load out)
Tuesday, Feb. 21 (9:00AM – 1PM) – 12-15 Strong Bodies for Gym Pack Up Load Out, Gymnastics Area reset